Nordhoff High School 6 Period Day
Frequently Asked Questions, Part II
Q: What are some examples of how my student will be able to meet their goals, with the pathway they have chosen?
A: Below is an example of a 6-period day schedule for Freshmen, Sophomore, Junior or Senior students.  Whether the student follows a 2-year of 4-year college pathway, a competitive-for-University pathway, a Career Technical Education pathway, or a combination pathway there is room in a 6-period day for all.
The following grid shows how a student might use acceleration courses (as a summer school, Edgenuity online offered by OUSD, or a college course option) to replace a course they during the year with an elective.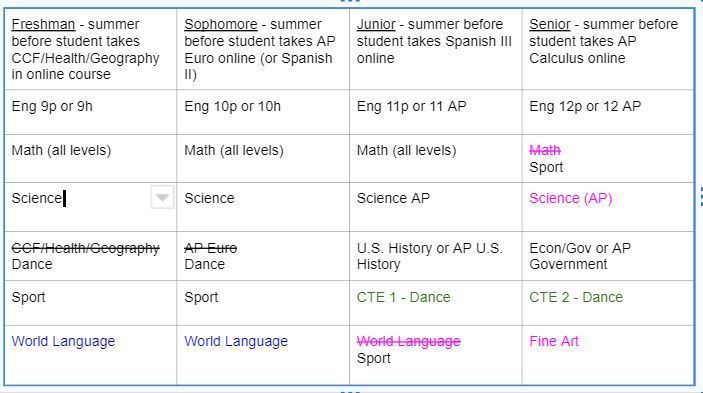 Additionally, students may be granted the option of a 7-period day for the following reasons:
Pathway/Core Class Completion Need- if the student needs 7 courses because they are an athlete who also needs 6 other classes in order to complete their pathway (CTE, A-G, or Combo), and/or be competitive for college, or to complete core classes. Core classes include English, Social Studies, Math, Science, Spanish, 2 years of one CTE pathway, PE up to 20 credits, and Directed Studies.
Total Credit Completion Need- if the student needs 7 classes in order to earn 225 credits to graduate.
Q: Why didn't you communicate this to parents in advance? 
A: We discussed this as a team and made the wrong choice. We should have communicated with parents in advance. 
Staff and administration talked daily about the nuances of recommending a six period day for most students. In these discussions, it became clear that this is not a unilateral decision because every student's situation is unique.  Because there are multiple factors to consider including grade level, credits needed to graduate, whether or not students are in a CTE pathway, NCAA, and others, we made the decision that we would work with students directly, so that counselors could work through individual graduation plans with students. As part of this preparation, we created an appeals process so that we can try and accommodate students who really want to take a seven period day and can't take advantage of summer school or other new online options.
In trying to limit confusion we inadvertently created confusion. We should have communicated in advance.
Ultimately, we are committed to ensuring students have access to a robust course of study that maps to their goals, and is flexible as goals change.  We are here to individually work with families to create the best schedule for students. Should you have outstanding questions, please email Nordhoff High School Principal Dave Monson at dmonson@ojaiusd.org or OUSD Assistant Superintendent Dr. Sherrill Knox at sknox@ojaiusd.org