BOARD AGENDAS/MINUTES/VIDEO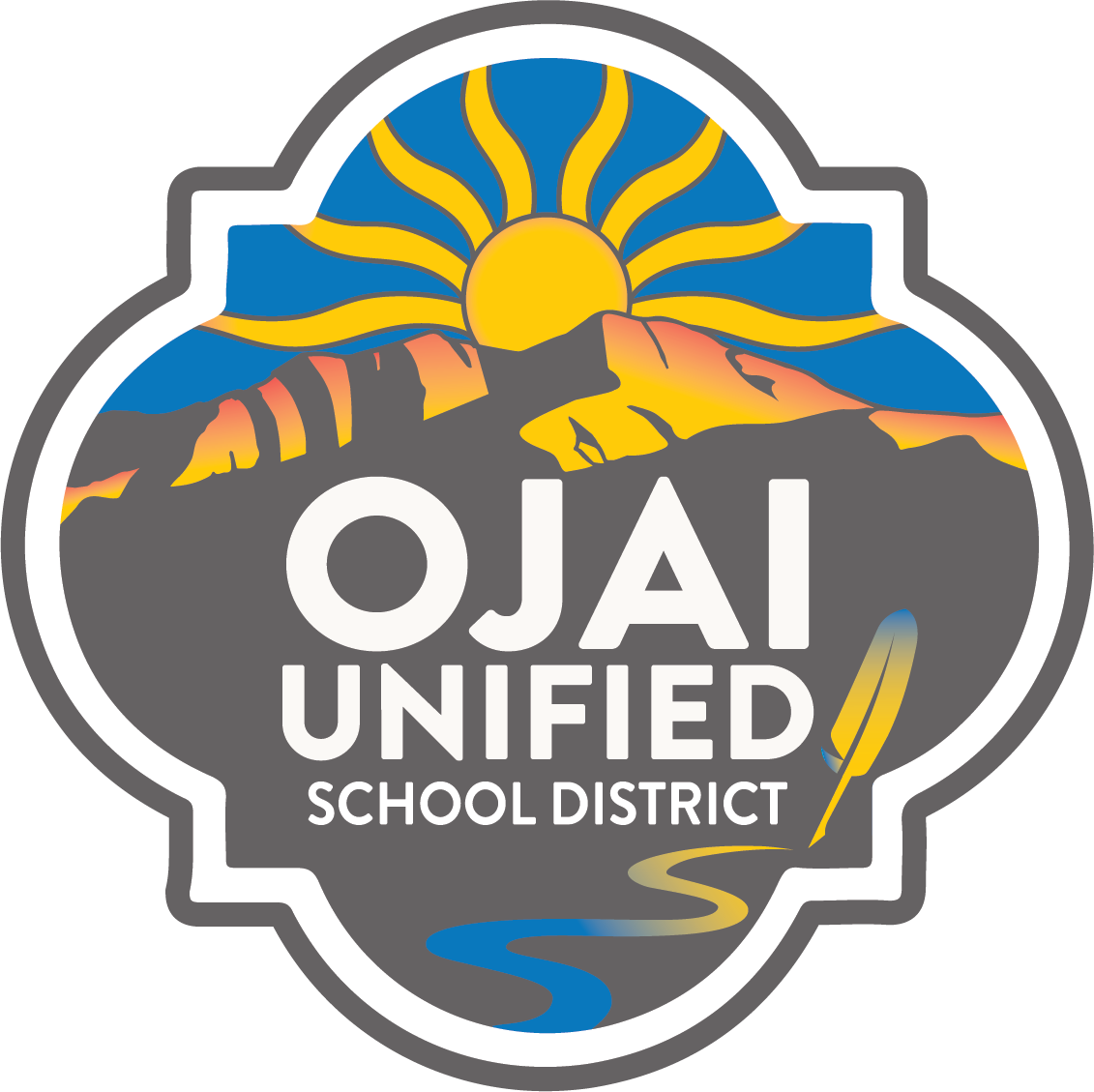 Subscribe to our mailing list to receive future board agendas.
Join the meeting via District Youtube Video at https://www.youtube.com/user/adminojaiusdorg
Join the meeting via District Facebook at https://www.facebook.com/ojaiusd.org
Members of the public have the right to present public comments in two ways:
Prior to 3 pm the day of the meeting public comments can be made in writing by clicking this link: Make a Public Comment

Members of the public who wish to make public comments after 3 pm the day of the meeting may make live comments from the OUSD Board Room . If the Board Meeting is moved to a different venue at any time, the address will be noted in that Board Meeting's agenda. If you wish to received Board Meeting agendas via email once they are posted, please subscribe to our mailing list link above.

Board Meetings begin at 5:30 p.m. on Wednesday's unless otherwise noted.
Meetings are held at:
Ojai Unified School District - 414 E. Ojai Ave, Ojai, CA 93023
All documents are posted and provided 72 hours prior to a meeting concerning open session items. The documents may be viewed by clicking the link contained in the charts on this page, by visiting the superintendent's office at, Ojai Unified School District, 414 East Ojai Avenue, Ojai, California, by signing up to receive the agenda (see link at top of this page) via email, and are posted on our Website homepage.
After the meeting has concluded a YouTube video will be posted on the Website within 48 hours. Minutes are posted after they have been approved by the Board at the subsequent meeting.
Items Not on the Agenda:
Comments will be received from the public under the agenda item titled Public Comments.
Board members, the Superintendent, or the Superintendent's designee may ask questions for clarification or briefly respond to statements made or questions posed by the public regarding items not appearing on the agenda. The Board may not enter into a formal discussion or take action on items not appearing on the agenda.

Items on the Agenda: Staff members will make his/her report on an agenda item, followed by public comments. The public may address the Board before the Board's consideration of each item of business (EC35145.5, GC54954.3). Once the Board begins its deliberation, no further public comments will be taken.
Board Policy limits the speaker's comments to 3 minutes.
2023 Board of Education Meetings
Meeting Date

Agenda

Minutes

Video

December 13, 2023

November 8, 2023

October 11, 2023

Public Notice of Instructional Materials Resolution

September 13, 2023

August 9, 2023

July 13, 2023

July 8th, 2023- Special Board Meeting

No Public Comments

N/A

N/A

June 28, 2023

June 21, 2023 - Special Board Meeting

Public Hearing 2023-2024 Proposed Budget

June 8, 2023

N/A

June 7, 2023

May 31, 2023 - Special Board Meeting

May 17, 2023

May 10, 2023

Special Board Meeting

April 19, 2023

April 6, 2023

Special Board Meeting

March 22, 2023

Special Board Meeting

March 13, 2023

March 8, 2023

Special Board Meeting

March 1, 2023

Special Board Meeting

February 21, 2023

February 8, 2023

January 28, 2023 (Board Retreat)

N/A

Special Board Meeting

January 23, 2023

Special Board Meeting

January 20, 2023

January 18, 2023
2022 Board of Education Meetings
Meeting Date

Agenda

Minutes

Video

January 12, 2022

February 9, 2022

March 9, 2022

March 15, 2022 (Special Meeting)

April 13, 2022

April 26, 2022 (Special Meeting)

May 11, 2022

May 23, 2022 (Community Pool Workshop)

June 1, 2022

Public Notice of 2022-23 (LCFF) Budget Overview

June 9, 2022 (Special Meeting) - Cancelled

N/A

June 28, 2022 (Special Board Meeting)

Public Hearing Notice of 2022-23 Final Budget

June 29, 2022

August 10, 2022

September 14, 2022

October 12, 2022

Public Notice of Instructional Materials Resolution

Special Board Meeting

November 1, 2022

November 9, 2022

Fiscal Committee Agenda

November 18, 2022

N/A

Fiscal Committee Agenda

November 28, 2022

N/A

Fiscal Committee Agenda

December 7, 2022

N/A

December 14, 2022

December 20, 2022

Special Meeting
2021 Board of Education Meetings
Meeting Date

Agenda

Minutes

Video

January 13, 2021

January 25, 2021

February 10, 2021

February 17, 2021

Tues. Feb. 16, 2021

Read - canceled

not recorded

March 10, 2021

April 20, 2021

Board Retreat

April 21, 2021

Mon. May 3, 2021

Special Meeting

May 12, 2021

June 2, 2021

June 16, 2021

June 21, 2021

July 12, 2021

Special Board Meeting

August 25, 2021

September 8, 2021

September 22, 2021

N/A

October 13, 2021

November 17, 2021

November 29, 2021

December 15, 2021
2020 Board of Education Meetings
| | | | |
| --- | --- | --- | --- |
| Meeting Date | Agenda | Minutes | Video |
| January 14, 2020 | | | |
| February 1, 2020 | | | |
| February 12, 2020 | | | |
| March 11, 2020 | | | |
| April 1, 2020 | | | |
| April 22, 2020 | | | |
| April 24, 2020 | | | |
| May 6, 2020 | | | |
| May 6, 2020 | | | |
| May 13, 2020 | | | |
| May 26, 2020 | | | |
| June 3, 2020 | | | |
| June 22, 2020 | | | |
| June 24, 2020 | | | |
| June 29, 2020 | | | |
| July 22, 2020 | | | |
| August 12, 2020 | | | |
| September 9, 2020 | | | |
| October 7, 2020 | | | |
| October 14, 2020 | | | |
| November 18, 2020 | | | |
| December 3, 2020 | | | |
| December 14, 2020 | | | |
| December 18, 2020 | | | |
| December 28, 2020 | | | |
2019 Board of Education Meetings
| | | | |
| --- | --- | --- | --- |
| | Agenda | Minutes | Video/Audio |
| January 9, 2019 | | | |
| January 16, 2019 | | | not recorded |
| January 23, 2019 | | | |
| February 6, 2019 | | | not recorded |
| February 13, 2019 | | | |
| February 28, 2019 | | | not recorded |
| March 6, 2019 | | | |
| March 13, 2019 | | | |
| March 23, 2019 | | | not recorded |
| April 8, 2019 | | | |
| April 17, 2019 | | | |
| May 6, 2019 | | | |
| June 6, 2019 | | | |
| June 19, 2019 | | | |
| July 17, 2019 | | | |
| July 24, 2019 | | | |
| August 14, 2019 | | | |
| August 14, 2019 | | | |
| September 11, 2019 | | | |
| September 23, 2019 | | | |
| October 16, 2019 | | | |
| November 5, 2019 | | | |
| November 20, 2019 | | | not recorded |
| December 13, 2019 | | | |
2018 Board of Education Meetings
| | | | |
| --- | --- | --- | --- |
| Date | Agenda | Minutes | Video |
| January 9, 2018 | | | |
| January 17, 2018 | | | |
| February 13, 2018 | | | |
| February 15, 2018 | | | |
| March 13, 2018 | | | Not Available |
| April 17, 2018 | | | |
| April 19, 2018 | | | |
| May 1, 2018 | | | |
| May 9, 2018 | | | |
| May 29, 2018 | | | |
| June 5, 2018 | | | |
| June 6, 2018 | | | |
| June 26, 2018 | | | |
| July 31, 2018 | | | |
| August 14, 2018 | | | |
| September 4, 2018 | | | |
| October 16, 2018 | | | |
| November 14, 2018 | | | |
| December 12, 2018 | | | |