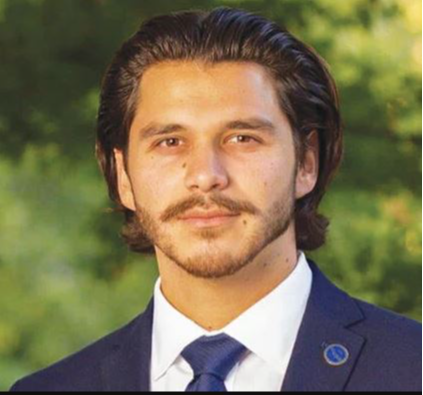 Atticus Reyes, OUSD Board Clerk, Trustee Area 3
Atticus was born and raised in the San Fernando Valley of Los Angeles and moved to Ojai the summer before high school; Atticus has called Ojai home ever since.
Atticus attended Nordhoff High School, and over his four years played four sports, participated in Nordhoff Drama productions and chose to be an Associate Teacher for freshmen students as his senior year elective. His senior year Atticus received the following Nordhoff recognitions: Bronze Shoe, Mike Mikos Award, George Valle Award, Boy of the Year and Ranger of the Year.
Atticus attended California State University Channel Islands and during his first two years as a commuting college student, he helped coach the Nordhoff Junior Varsity Football Team. In his final two years at CSUCI, Atticus was selected to participate in the Panetta Institute Congressional Internship Program, ultimately interning for Congressman Eric Swalwell in Washington D.C., joined the University's Model United Nations team and was elected ASI Student Government President for 2018-2019. During his Presidency, Atticus was also elected by the other CSU Student Government Presidents to serve as the Vice Chair of the Legislative Affairs Committee in the California State Student Association, the official recognized voice of half a million CSU students. In 2019 Attcius graduated from CSUCI with a degree in History, and a minor in Political Science.
After graduation, Atticus was selected for the 2019-2020 cohort of the Capital Fellows Senate Fellowship Program, one of the oldest and most distinguished service-learning programs in the country. Atticus completed his fellowship in Sacramento working for State Senator Ben Allen focusing on environmental policy.
After his fellowship, Atticus returned home to Ojai and now works for Assemblymember Steve Bennett as a field representative covering the issues of education, public safety, transportation, and immigration.
The son of a Mexican immigrant father and an Anglo-American single mother, Atticus has developed a passionate interest in advocating for marginalized communities. Atticus hopes to focus on equity, access and inclusion on the Board. On the weekends you can catch Atticus trail running or playing basketball throughout the Ojai Valley.
Email: atticus.reyes@ojaiusd.org