EDIT MAIN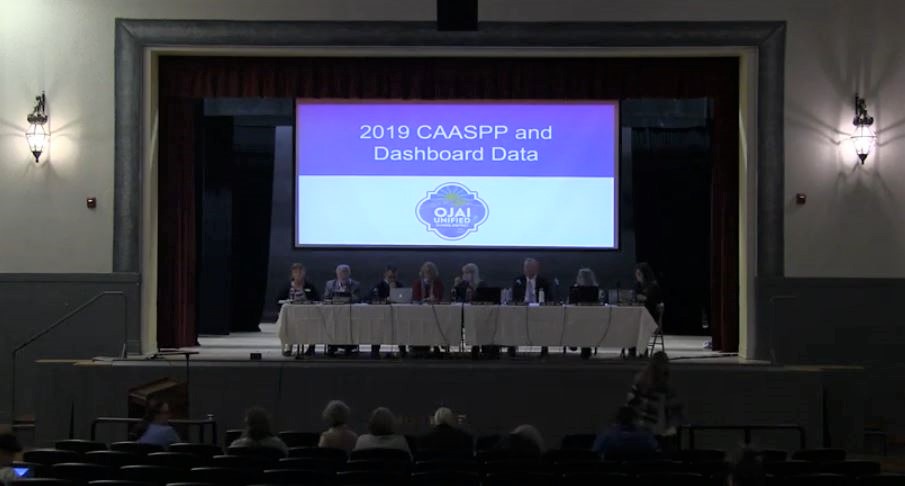 On December 13, 2019 OUSD presented California State Department of Education's (CDE) Dashboard reporting to its School Board and stakeholders. To view this presentation, please visit http://bit.ly/36VKnkF.
The CDE Dashboard is a complex grading system that goes beyond straight test scores, and demonstrates status – how districts are doing now - and change – how districts are doing compared to last year's results
This year, Matilija Middle School and Meiners Oaks Elementary School, two schools that were previously graded as Comprehensive Support and Improvement (CSI) schools, have shown growth in all of the state indicators. 2019 data shows none of OUSD's schools as having CSI status.
In addition to reviewing data on schools, The Dashboard provides data on student groups. This is helpful to indicate which groups our district is serving, and where we can improve. Several student groups also saw performance increases, including students with disabilities having moved out of the red category in both academic indicators. New district programs – including Sonday System Reading Intervention, new 4th grade math curriculum Levered and after-school intervention opportunities with credentialed teachers have moved one student group into higher achievement levels.
CDE Dashboard results also report data on issues beyond academics, such as chronic absenteeism, grading all districts on students who miss more than 18 days in the year regardless of why they were absent. We're pleased to see that our efforts to address this issue – including the adoption of Restorative Justice practices and Social Emotional Learning curriculum - have delivered a decrease in absenteeism, moving our district from orange to green.
These upticks in several pivotal areas of learning, and behaviors, are very encouraging. The steps we are continuing to take this year are the adoption of SEL and restorative Justice practices, as well as implementing multiple student-centered learning programs such as GATE, Sonday System, Edgenuity online learning and OUSD's new independent study program, Ojai Independent School.