EDIT MAIN
WEBSITE UNDER CONSTRUCTION
On behalf of Nutrition Services, thank you for your generous donation! Your contribution to the cafeteria fund is greatly appreciated.


Regrettably, this year OUSD Nutrition Services is struggling with an unprecedented amount of debt, due to unpaid meal accounts. Currently, monies owed to Nutrition Services from OUSD families totals $10,000. At the end of each school year, the cafeteria accounts must balance to zero. If accounts have a negative balance, the State prohibits the cafeteria from absorbing this debt. The district becomes responsible for payment of these funds with the "General Fund" account, which is directly used to pay for classroom expenses.
Donations will be applied to overdue accounts based on the following priority list:
1) Students who have EXITED the district;
2) Accounts with WRITE-OFFS due to financial hardship;
3) Students who have a FREE eligibility status;
4) Students who have a REDUCED eligibility status;
5) Students who have a PAID status and the family cannot pay due to financial hardship;
6) All OTHER debt.
If you would like to make a donation, please fill out the Donation to Cafeteria Debt Form and mail the form with a check to the following address:
Ojai Unified School District
Nutrition Services
P.O. Box 878
Ojai, CA 93024
Make check payable to: OUSD Nutrition Services. Please add "cafeteria donation" somewhere on the check (refer to the picture below).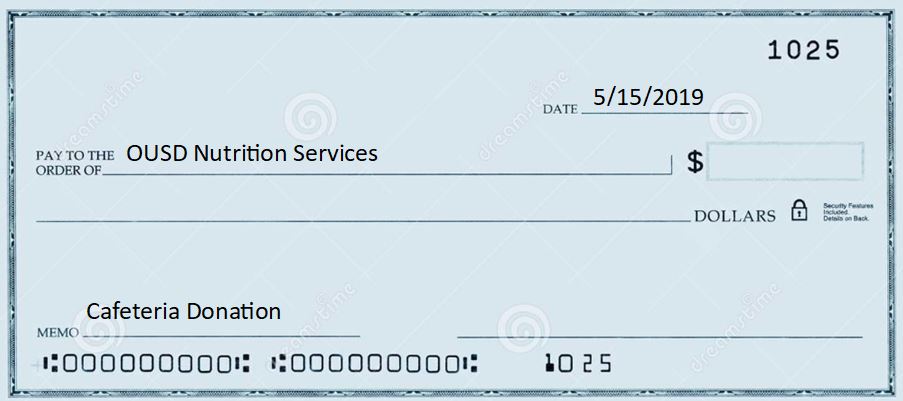 To request a letter for tax deduction purposes, please send an email to the Business Office at accounting@ojaiusd.org requesting the document. If you have any questions, please contact Julie Chessen, Director of Nutrition Services at jchessen@ojaiusd.org or 805-640-4300 x1079.