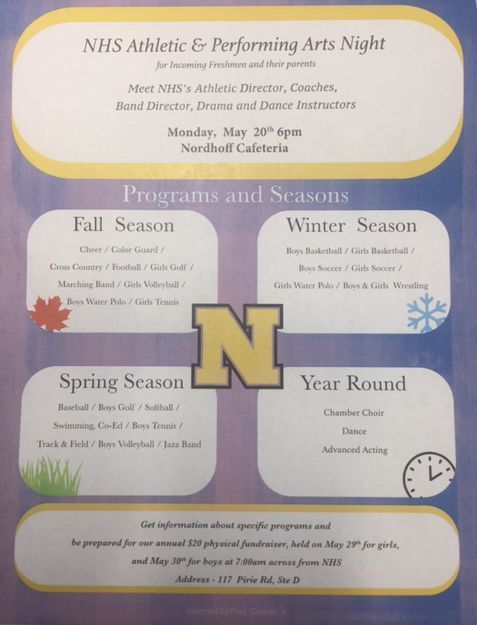 Athletics and Performing Arts Night for new students
David Monson
Tuesday, May 14, 2019
Welcome to our incoming freshmen families! We hope you can join us for our Athletics and Performing Arts Night, Monday, May 20th, 6pm in the NHS Cafeteria.
This is an opportunity to meet the Nordhoff Administrators, the coaches for all 18 boys' and girls' sports, our dance, cheer, and Advanced Acting instructors, as well as our Band and Color Guard Director. You will have the opportunity to speak with coaches, get summer practice schedules and try out dates (where applicable) as well as information to take home for each program.
On May 29th and 30th, we invite you to participate in the Nordhoff Athletic Physicals fundraiser. Thanks to the generosity of several local doctors, we offer a sports physicals fundraiser for families. In the past, families have offered $20 donations, but we will accept any amount you may be able to afford. If you would like to donate, please make checks payable to NHS Athletics, or bring cash in exact change. The proceeds of this fundraiser help cover the cost of home official's fees, which runs in excess of $26,000 each year. Girls' physicals are at 7am Wed, May 29th, and boys' physicals are at 7am, Thurs, May 30th. For those who are unable to make those dates, we will have one make-up date on Wed, June 5th at 7am. The Ojai Valley Family Medical Group, 117 Pirie Rd, Ste D, right across from the Nordhoff campus, will be the host site for the fundraiser. Please note that while all high school athletes, dancers and Marching Band/Color Guard members must have an annual physical, families have the choice of participating in the Nordhoff Physicals fundraiser OR seeing their own physician.
All participants must complete the following before they may try out, practice or compete in any sports, or dance, cheer, color guard, or Marching Band activities:
An annual physical, on the Ojai Unified School District Physical form, signed by a doctor or nurse practitioner.

Registration on AthleticClearance.com for the 2019-20 school year (the 2019-20 portal opens May 20th).

Printed and signed Confirmation message returned to the Nordhoff Athletic office. Must be the original signatures, no fax or emailed documents accepted.
We have enclosed a flyer with general information about the May events, a blank physical form, and the instructions for registering through AthleticClearance.com. We look forward to meeting you and your incoming freshman!
Go Rangers!
Dave Monson Jim Hall Rene Nakao-Mauch
Principal Dean of Student Services Athletic Director