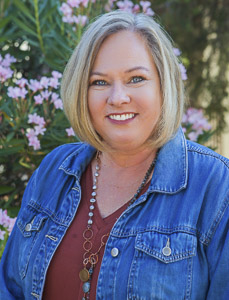 MESSAGE FROM THE PRINCIPAL
Welcome to Topa Topa Elementary School. We are a school that serves students from transitional kindergarten through fifth grade. Topa Topa Elementary School has been recognized as a California Distinguished School. The positive school climate is enhanced by hardworking and supportive staff. With an active PTA, there are fun activities and opportunities to get involved.
Our school sits on a beautiful campus with a view of the Topa Topa Mountains. As you approach the campus it appears that it is sitting just at the base of the mountains. Another feature that adds to the beautiful setting is the large garden in the center of the campus. Many trees add to the landscape and provide shade throughout the year. Being at Topa Topa School is receiving an education in a gorgeous setting!
Topa Topa offers an extensive array of programs that begin with Common Core-aligned Reading, Language Arts, and Math instruction for all students. Students needing support for these curricular areas have excellent opportunities for help. All students benefit from being offered a highly rigorous Common Core-aligned program. Teachers provide differentiation in the classroom for students who need scaffolding for support.
Enrichment is abundant at Topa Topa during the regular school day. The PTA provides students with a high-quality art program for all grade levels and music education is available with our band teacher or through the BRAVO Music Festivals that provides concerts and performances for our students. Our STEAM room is an inviting room for classes to be inspired doing art and science projects. Character development is emphasized and rewarded at our trimester assemblies. The Garden Club meets regularly taught by our "Food For Thought" experts. These programs offer students important connections to the school.
Being a California Distinguished School, having an active PTA, beautiful scenery, technology, rigor, intervention and character development are all important features of our school. But the most important piece of Topa Topa School is the people. Students and families are at the core of why we are here and are at the center of what we do. People are our focus and we love what we do. Welcome to Topa Topa School!
Mrs. Damianos
Principal