Downtown Ojai, Circa 1918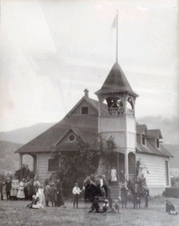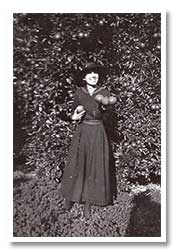 Annie Friend of Friends' Ranch, Circa 1900s
"Amid much rejoicing, San Antonio's new school building was formally presented to the district last Friday night." – The Ojai, April 8, 1927
Many of our local residents don't realize that the rich history of Ojai Valley is mirrored in our very ownSan Antonio School building, and we are proud that many of Ojai's children have been learning on this same site for generations.
In 1887, when the school district purchased three acres at the corner of Grand Avenue and Carne Road from the Beers family for $25, the first San Antonio schoolhouse was built by volunteers. By the late 1920s, class sizes had increased and the School Board took it upon themselves to build a larger facility and hired Santa Paula architect Roy Wilson.
In addition to the current San Antonio school building, Mr. Wilson eventually designed what we know as the Ojai Unified School District building, as well as the original Nordhoff High School and Matilija Junior High School buildings.
While students, staff, and local Ojai residents cherish its historical significance, San Antonio school is moving into the future with an academic standard of excellence through study and mastery of the California Common Core State Standards. This rigorous course of study provides many opportunities for individual growth. Our teachers provide instruction to accommodate the different learning styles and skill levels of students in language arts, mathematics, social studies, science, technology, and the performing arts.
San Antonio School: "Celebrating history. Inspiring community"