OUSD Newsletter, 5/13/2019
Linda Jordan
Monday, May 13, 2019

Join Us For Spring Showcase, Open House
It's Spring Showcase and Open House season at Ojai Unified Schools, offering our community an excellent opportunity to visit campuses and learn more about the OUSD family and its schools' achievements.
"We're extremely proud of the students, staff, teachers and administrators who spend countless hours planning and coordinating these events" said Andrew Cantwell, OUSD Superintendent. "These are truly community-oriented gatherings, and an occasion for all stakeholders to attend, and enjoy," added Mr. Cantwell.
The schedule for each school's Spring Showcase and Open House events can be found on the Ojai Unified School District event calendar here, with additional information in this issue of OUSD News.
---
Spring Showcase: Topa Topa
Photo credit: Topa Topa PTA
"Topa Topa's Spring Showcase was held on May 2nd this year, and as always, our staff, teachers and hard-working PTA outdid themselves at one of our favorite events of the school year," said Principal Dawn Damianos. "Showcase is an opportunity to invite our families and community on-campus and gives our students forum to present projects and performances."
Topa Topa PTA coordinated a Silent Auction from donations by local businesses and families, and a Live Auction featuring classroom art projects, and dinner and refreshments were provided by Food Trucks Oh My Gosh Hot Dogs, El Taco and Mr. Softee.
Photo credit: Topa Topa PTA
For more information on Topa Topa Elementary School, please contact Principal Damianos at Ddamianos@ojaiusd.org
---
Matilija Welcomes 6th and 7th Grade Families
For the first time in its history, Matilija will be welcoming 6th and 7th graders in the Fall of 2019, as the school moves to a Middle School configuration. "Matilija's Spring Celebration is a perfect opportunity for our new families to explore student projects and enjoy community with other parents and students," said Assistant Principal Carol Paquette. "We look forward to welcoming all of our incoming parents and students along with sharing our current students' work with our Matilija family,"
In addition to academic and artistic project presentations, Matilija's Spring Celebration - scheduled for Thursday, May 16th from 6-8:00 p.m. - will also offer musical performances, and athletics teams information tables. A BBQ dinner will be offered for purchase by Ojai Rotary West, and Parent presentations will be made available in both Spanish and English Language.
Thursday, May 16th 6-8:00 p.m.
5:00-5:20 p.m. Meeting in Auditorium for incoming 7th graders
5:25-5:45 p.m. Meeting in Auditorium for incoming 6th graders
5:50-6:10 p.m. Junta en Español en el auditorio
6:15-7:15 p.m. Ojai Rotary West Dinner $7 per plate. Limited: 200 dinners will be available. Bottled water Root Beer Floats – sold by Leadership Class.
6:25-6:55 p.m. MJHS Music Department performances on cafeteria patio
7:00-8:00 p.m. Classroom Visitations, Presentations, and Demonstrations (see below)
For more information on Matilija Middle School, please contact Principal Ramirez at jramirez@ojaiusd.org
---
San Antonio Celebrates Community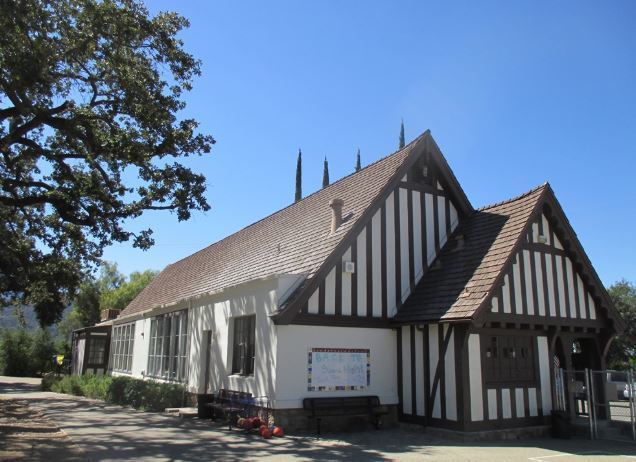 "The San Antonio School family will be celebrating our students, parents and community on Thursday, May 23rd from 5 to 7:00 pm," said Principal Robin Monson.
"Our auction is always a big hit, and this year our students can bid on time with their favorite teacher" , including a Pizza Party, Yogurt Party at Bliss Yogurt, and even 'Principal for a Week'". Additional auction items include themed Class Gift Baskets.
This year El Zarape restaurant will provide dinner for purchase, with choice of tacos or mini burritos and sides, for $8/plate. Families wanting to purchase dinner must pre-order with the the form made available in the showcase handout. Please drop the completed dinner order forms off at the San Antonio School office by end-of-day, May 20th. Contact the school office at 805-640-4373 with questions.
"We hope our community will join us on our beautiful campus for a fun evening to celebrate our students and teachers," said Ms. Monson.
For more information on San Antonio Elementary, please contact Principal Robin Monson at rmonson@ojaiusd.org
---
Nordhoff Highlights Student Accomplishments

"Spring Showcase is an evening to highlight Nordhoff students' accomplishments," said Principal Dave Monson. "Parents, families and our community are encouraged to attend and catch a glimpse of the great work that happens on this campus every day, while celebrating student awards and enjoying music performances" Mr. Monson also noted that this year's Silent Auction will support funding for all-class Safe and Sober Grad Night. "Many of these auction items go quickly at "buy it now" bids," said Mr Monson, adding that interested bidders should arrive early to see all the 2019 NHS Silent Auction has to offer.

Nordhoff's Spring Showcase is scheduled from 5-8:00 p.m. on Wednesday, May 29th, with student projects and presentations,
including Sidewalk Chart Art, Ceramics, Musical Performances and an Awards Ceremony. Fundraisers include "Ye Old Library" Book Sale, Bake Sale and a BBQ Dinner hosted by the Nordhoff Parent Association, featuring Hamburgers, Veggie Burgers, Hotdogs and Side Dishes. Adult Plates $10.00 / Child $8.00 Student Awards presentations will include; Academic Letters, Mock Trial awards, and recognizing students who have been chosen as delegates to attend the Boys State, Girls State, and HOBY Leadership programs.
Silent Auction Items include the following gift certificates and items from local businesses: Handcrafted Custom NHS Cornhole Game, Spirit Wear, Gift Baskets, Hand Crafted
Items by Local Artisans and Artists, Reserved Parking & Seating For Graduation, and more.Camouflage, Ojai Cafe Emporium, Topa Topa Brewing, Contempo Hair Design, Flora Gardens, Movie Certificates, Oak Creek Ranch Winery, Rains Department Store, Movie Certificates, Island Packers, Ventura Swimwear, Ojai Spring Car Wash, Bliss Frozen Yogurt, Ojai Valley Athletic Club, Papa Lennons, Ojai Ice Cream and more
2018 Spring Showcase Student Sidewalk Chalk Art
For more information on Nordhoff High School, please contact Principal Dave Monson at dmonson@ojaisusd.org
---
Spring Fling: Meiners Oaks Elementary
Meiners Oaks' Spring Fling event will take place on Thursday, May 30th from 5:00 to 8:00 p.m. "We're excited to host a true community event at Spring Fling this year," said Principal Theresa Dutter. "Teachers, students and parent volunteers have been working hard on a fun-filled evening at Ojai Unified School District's Green Ribbon School."
Ms
. Dutter added that the event will feature delicious food, the opportunity to visit classrooms, a silent auction, an English Language Acquisition Committee (ELAC) meeting and student performances. "As part of a PTA fundraiser, each classroom has created a special baskets with a fun theme, and includes gift cards, movie night, relaxation, beach fun, Disney, art, gardening, coffee and more," added Ms. Dutter. "We appreciate all our PTA does to raise funds at this event, and all year long, to support the programs that enrich our students' learning experiences."
Please view Meiners Oaks' Spring Fling Schedule, below.
Thursday May 30th, 5:00-8:00
5:00-7:00 BBQ Dinner
5:00-5:30 English Language Learners Meeting - Room 16
5:00-6:30 Silent Auction, Including Classroom Baskets
5:30-6:15 Classrooms Open
6:30-7:00 Student performances - All students and parents to Cafeteria
7:00-7:30 Auction Checkout
For more information on Meiners Oaks Elementary, please contact Principal Dutter at tdutter@ojaiusd.org
---
Open House: Mira Monte
"We're excited to welcome our Mira Monte families and community to our Open House on Thursday, June 6th," said Principal Katherine White. "We'll be celebrating our students' achievements with classroom projects, as well as performances by our dance students and music students will be performing. Our team of hardworking parents, teachers, students and staff look forward to to this event every year, and we hope the community will join us in this celebration" For more information, see schedule, below or contact Mira Monte Elementary office at (805) 640-4384.
Thursday, June 6th 5-8:00 p.m.
5:00-6:30 Dinner at the Cafeteria sponsored by Ojai Valley Baptist Church . Tri-Tip, Pasta and Green Salads, Bread and drink- $5.00. Dinner orders must be submitted by 3:00PM on Tuesday, June 4 for the $5.00 price. After 3:00PM, the dinner price will increase to $8.00. Bake sale desserts and drinks sold separately by current 4th graders (Proceeds to go to CIMI Scholarship Account)
5:00 – 7:00 Silent Auction in lunch area
5:15 Mira Monte Dance presentation in multipurpose room
5:45 Primary grade music presentation on lawn in front of room 2
5:45 - 6:30 Upper Grade Classrooms Open
6:00 - 6:30 Primary Grade Classrooms Open
6:30 - 6:35 School-wide song in lunch area
6:45 Auction Ends
For more information on Mira Monte Elementary, please contact Principal Katherine White at kwhite@ojaiusd.org