OUSD Newsletter, 4/14/2019
Linda Jordan
Monday, April 22, 2019
Please visit The Ojai Unified School District website here for updates, including information on scheduled Board and Special Meetings.
Need to start planning for Summer vacation? Click on image, below, to view OUSD Calendar for the 2019/20 Academic Year
Public Hearing: By-Trustee Area Election
The Governing Board of the Ojai Unified School District invites public comment regarding the composition of trustee areas at the School Board meeting held at 414 E. Ojai Avenue on April 17, 2019 at 5:30 P.M.
This public hearing is part of the statutory process for establishing a "by-trustee area" elections system, whereby the Ojai Unified School District would be divided into trustee areas and each Governing Board member would be elected by only the registered voters in the particular trustee area where the Governing Board member resides.
For more information on this method of election, please view a discussion from the April 8th School Board Meeting here. Please contact Superintendent Andy Cantwell with questions or comments at (805) 640-4300 ext. 1012 or acantwell@ojaiusd.org
Staff Spotlight: Director of Operations, David Rogers
As Ojai Unified School District's Director of Operations, David Rogers oversees the implementation, maintenance and planning of all district Technology, Facilities, Transportation, and Grounds.
"Having grown up in Oak View, I have a special affinity for the Ojai Valley," said Rogers, noting that he had the opportunity to pursue a career while still in high school, thanks to the Regional Occupation Program classes and internships made available through the Ventura County Office of Education. "As a product of these educational opportunities, I have a passion for creating and maintaining systems that support those same initiatives at Ojai Unified."
While still attending high school, Rogers interned at Jet Propulsion Laboratories and The Ventura County Courthouse. After graduating high school, Rogers was hired as a Junior Network Administrator for an organization that provided technology services across the globe.
Rogers went on to earn a Bachelors of Science degree in Information Technology with an emphasis in Advanced Networking Design. "I love to use technology for outreach; connecting individuals and facilitating communication to ensure best practices for our students and staff," noted Rogers. "Our technology team works very hard to build simple information systems, affording easy access to students and teachers to deliver a better learning experience."
An example of OUSD Technology Services' delivery of simplified, yet powerful solutions for OUSD's students and teachers, is the recent installation of new Chromebooks Carts (example in image, left). These carts provide portability across school sites, cut costs and deliver a space for engagement and learning. These systems make great use of an affordable platform that can be used for assessments, instruction, web access and other instructional needs. "As part of the district's initiative to provide student access to technology,we are installing new chromebook carts to replace older technology," said Rogers. "These carts will be replaced in phases every 5 years, allowing us to plan and stay ahead of technology obsolescence" This initiative ensures the district need not rely on donations to maintain classroom sets of chromebooks.
"During the course of the upgrade, the Technology team is delivering 21 carts across all school sites," said Rogers. "Elementary schools will receive one cart per site, Matilija Middle School will receive one cart per subject - Science, Math and English - and Nordhoff High School will receive two carts per subject"
Rogers added that the Technology Department at OUSD is "...consistently pivoting to address needs, reviewing new opportunities and improving our practices to ensure delivery of current technology across all sites. In this way, we continue to deliver on our mission: Connecting Students to Success"
For more information on OUSD Operations, please contact David Rogers at drogers@ojaiusd.org
Topa Topa: Science In Everyday Life
Second Grade Teacher Ms. Emily O'Gorman is inspired by science. "My goal as a teacher is to get kids excited about science in their everyday life, and teach them that 'science' is all around them," said Ms. O'Gorman, adding that science is an extension of everyday life, and "...kids just naturally want to explore and wonder about our
universe" With the goal of "sparking an interest in Science", and an idea for a school-wide Science Night, Ms. O'Gorman began planning the event in Fall of 2018, with the approval of Principal Damianos and the help of Topa Topa PTA. "From the beginning, we wanted Science Night to be inclusive - school-wide and family-oriented," said Ms. O'Gorman. "In contrast to the typical 'Science Project' night, we wanted to bring the Topa Topa community together and introduce hands-on experiences, that were fun and memorable for students and families alike". After getting the basic foundation of the evening in place, Ms. O'Gorman reached out to local organizations and invited them to participate. "I was very pleased with the response to outreach," said Ms. O'Gorman. "Ultimately, with the help of these organizations, we were able to provide eight 45-minute workshops from which our families and students could choose" . The organizations who participated in sourcing Topa Topa's Science Night is an impressive list, including The California Oil Museum, Ventura Gem & Mineral Society, The Channel Islands Maritime Museum, and The United States Forest Service. "The Topa Topa PTA ordered Food Trucks for dinner, and they provided an army of volunteers," said Ms. O'Gorman. "It really was a community-attended and -supported event"
"One of the most popular workshops - Journey to Outer Space - featured an inflatable dome, a bit like a bouncy house, that gave visiting families the sense they were suspended in outer space, with every planet in the solar system placed like-distances from one another," said Ms. O'Gorman.
(l) Topa Topa Students enjoy "Mad Scientist Day"; (r)"Oil Seeps" workshop, by California Oil Museum
According to Ms. O'Gorman, collaboration across school sites was a major driver in this initiative. "Nordhoff's Science Teacher, Ms. Natalie Hay, and her students presented a workshop on polymer science," noted Ms. O'Gorman. "The students interacted with materials and equipment as a real lab scientist, testing out ratios, and building their own bouncy balls," said Ms. O'Gorman. At the end of the evening, the students were able to take their creations home as a reminder of the evening.
Another popular workshop was presented by the U.S. Forest Service.
"Because of our community's recent experience with The Thomas Fire, we consciously reached out to this group to present a Fire Ecology workshop," said Ms. O'Gorman. "The students and families learned about the behavior of fire, and how firefighters are trained to steer the fire away from life and property"
"We're currently re-evaluating for next year's event, and want to reach out to even more organizations," said Ms. O'Gorman. "Based on comments from families and students, we're confident that this will be a long-standing event at Topa Topa Elementary School"
For more information on Science Night or Topa Topa Elementary School, please contact Principal Damianos at ddamianos@ojaiusd.org
Nordhoff: At-Large Learning Opportunities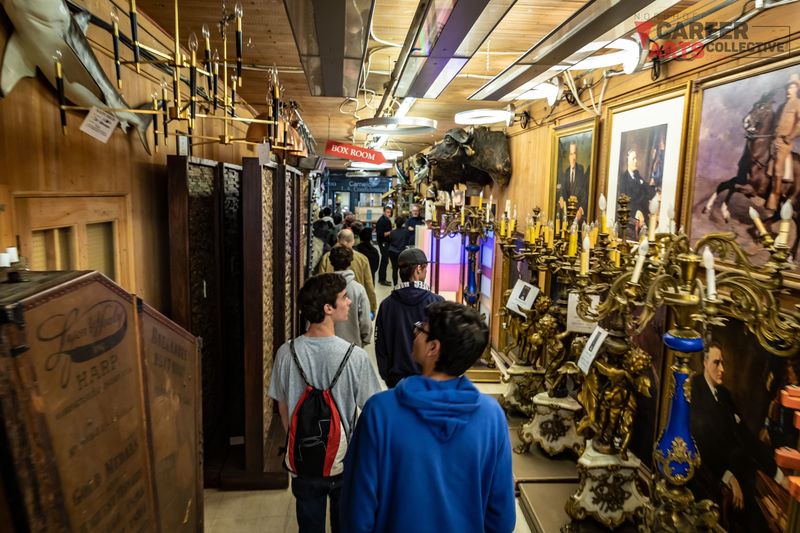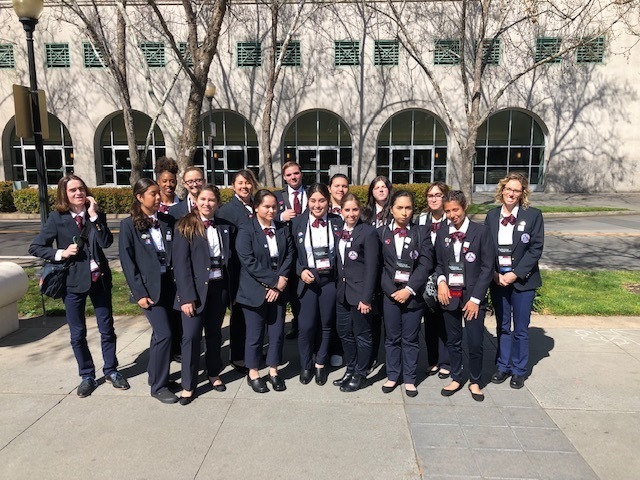 (l) Nordhoff Video Production and Graphic Arts students visit Warner Brothers Studio; (r) Health Science Academy travels to Sacramento for the HOSA State Leadership Conference
According to a recent article by Vanderbilt University, "Teaching and learning can become inherently spontaneous and student-centered when moved from the confines of the classroom into the world at large." As staff and administration at Nordhoff High School continue to embrace these out-of-classroom learning opportunities, "....our teachers are expanding their students' understanding of a diverse group of subjects beyond the classroom walls," noted Nordhoff Principal Dave Monson. "Additional;y, affording students the opportunity to see the relevancy of their studies through visits to job sites, interactions with professionals in the field, and collaboration with students outside of Nordhoff's campus provides enrichment experiences and supplements the classroom curriculum"
During the last week of March, Nordhoff Health Science Academy (HSA) students had just such an opportunity as t
hey traveled to Sacramento to compete in the California HOSA State Leadership Conference. "Each student competed in a chosen event, which they prepared for months in advance," said Nordhoff HSA Teacher Naiyma Houston. "And, while we did not place in any events, many of our students made the second round of their competition, out-performing hundreds of other students." Over 4,000 students from all over the state attend the event each year, and in addition to competing, they enjoy inspirational speakers, leadership workshops, and career guidance.
The association with Cal-HOSA offers additional benefits to Nordhoff students, and over 190 California State Schools who participate each year. "Our affiliation affords Nordhoff students interested in careers in the health and mental health professions, a wider view of all of the opportunities in their chosen field"
Similar opportunities were made available to Nordhoff Video Production and Graphic Design students on a recent visit to Warner Brothers Studios for guide-led tours of the WB Lot. The students visited multiple stages at backlot sets,
including those used for Jurassic park, ER, Gilmore Girls, and Harry Potter. Students were also guided through the prop house and several on-site museum exhibits where they had a chance to see wardrobe, props and set dress from multiple movies "Since the studio is always in production, the lot was filled with industry professionals going about their typical work days,' said Jake Hansen, Nordhoff Video Production teacher. "For our students considering a career in the film industry, this is an excellent opportunity to demonstrate the real-world teamwork and the professionalism it takes to generate huge projects applying to many different career paths"
For more information on Nordhoff High School, please contact Principal Monson at dmonson@ojaiusd.org
Nutrition Services: Soup's On… The Menu
OUSD Nutrition Services provide over 1,200 delicious and healthy meals and snacks each day, including this from-scratch chicken and vegetable soup, whole-grain grilled cheese sandwich, fresh fruit and vegetables,and a green salad
OUSD Nutrition Services staff have been incorporating more homemade items into the breakfast and lunch cycle menus this school year. "We are testing different recipes with our students," said Julie Chessen, Director of Nutrition Services. "We're very pleased with the student response"
A recent made-from-scratch lunch item is Chicken and Vegetable Alphabet Soup. "Since these recipes are new and different, our nutrition education partner, Food for Thought Ojai, offered their volunteer services to sample the new recipe to the students during recess,' noted Ms. Chessen. Soup samples were offered the day prior to the item appearing on the menu, and volunteers collected student comments, which included "I hate all of those vegetables, but I tried it and I liked it!"; "Delicious! The best soup ever!" and "It's so good, I just can't resist it!"
"The Chicken and Vegetable Alphabet soup was the first recipe we sampled on the playground," said Ms. Chessen. "Students loved this recipe and were excited to purchase this item on the lunch menu on March 28th"
For more information on OUSD Nutrition Services, view online menus and find forms and applications here, or contact Ms. Chessen at jchessen@ojaiusd.org
Adult Continuing Education:Building Workforce Readiness
OUSD's Adult Continuing Education Spring semester offering, Encore, is designed to equip "re-entry" workers interested in broadening their options in the job market by developing technology- and workforce-readiness skills.
"We're very excited about this offering for our local community members," said Becky Beckett, OUSD's Director of Alternative Programs. "Our teacher, Amy Crittenden, is knowledgeable, enthusiastic, and committed to adapting the class to meet the needs of the students" Class topics include essentials of Microsoft Word, Excel, and Publisher, as well as organizational communication, and essential math for the workplace. Due to the nature of our potential students, we are offering this class through 'open enrollment', meaning that students may join at any time," said Ms. Beckett. The Encore class meets Mondays and Wednesdays from 9 - 11am on the Chaparral campus, at 414 E. Ojai Avenue, in room 5. Enrolling students can register by calling 805-640-4330, ext 1960 or visiting the Chaparral Office between 8am and 4pm.
For more information on OUSD's Adult Continuing Education, please contact Director of Alternative Programs Becky Beckett at bbeckett@ojaiusd.org